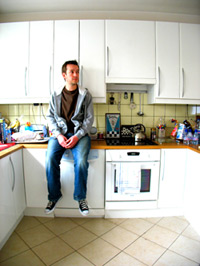 credit Amanda Boucq.
Frequently Asked Questions
Q. Is there a NATIONAL MEN MAKE DINNER DAY parade?
A. Not yet.
Q. Are barbeques allowed?
A. No. Since the discovery of fire, men have laid claim to cooking over open flame. The challenge of working a typical kitchen is far greater and considered a more unfamiliar environment.
Q. What if I don't like what he cooked?
A. Put lots of ketchup on it, smile, and mention that you had a late lunch
Q. Is it OK if my man makes a recipe that I've made a hundred times?
A. Yes. No bonus points will be awarded for creativity but, you may still be surprised. Plus, there is the possibility that the end result will taste nothing like the way you make it.
Q. Should I help my man decide what to cook, or leave it up to him?
A. Leave it up to him. Step in only if, the day before National Men Make Dinner Day, you hear him on the phone ordering eight pounds of anchovies.
Q. I once asked my husband to pick up a round steak for dinner. He came back from the store lamenting that they only had rectangular-shaped steaks. Should I help him with the shopping stage of 'National Men Make Dinner Day'?
A. No. If he mistakes canapes for a can of peas, that's all part of the fun. Besides, it makes for great stories, doesn't it?
Q. I've got some really expensive cookware that needs to be treated gingerly. No high heat, no contact with metal utensils, that sort of thing. The morning of National Men Make Dinner Day, should I hide this stuff?
A. Yes..